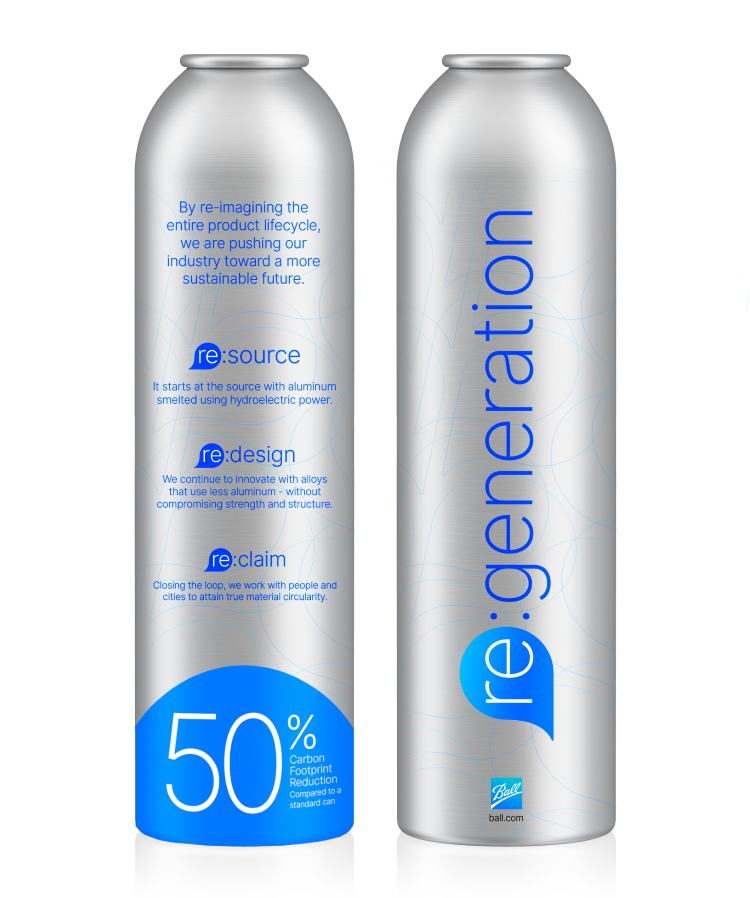 A New Era of Sustainability
Ball's most sustainable can to date.
As a global leader, Ball is bringing innovations in sustainable packaging that will help people live more sustainably and improve the health of the planet. We're re-imagining, re-thinking, re-building, and re-placing the current landscape of aerosol packaging.
Our holistic approach to sustainability enables us to achieve dramatic carbon footprint reductions across our entire range of aerosol cans, at a global scale. Ball is launching its most sustainable aluminum aerosol can yet, with only half the carbon footprint of a standard can.
re:source
Not All Primary Aluminum is Created Equal
It takes energy to produce primary aluminum. But. By sourcing aluminum made from renewable energy resources like hydroelectric power, Ball has dramatically decreased the amount of CO2e emissions from the creation of aluminum. Aluminum produced by using renewable, hydroelectric power generates 75% less CO2e compared to the global average for aluminum production.
re:design
Less weight, less raw materials
Lightweighting is the second lever that we use to dramatically reduce the carbon footprint of our cans. In 2014, Ball introduced ReAl® - a proprietary and patented alloy composition that increases the strength of the aluminum used in manufacturing. Ball keeps pushing the boundaries of innovation with ReAl – today we are producing cans that are up to 30% lighter (compared to a standard aluminum aerosol can) while retaining their strength and structure.

re:claim
True Circularity
Real Recycling is the third lever that we use to dramatically reduce the carbon footprint of our cans. To meet our ambitious sustainability goals, we know how important it is to increase recycling rates, in order to bring more recycled content back into the system. Ball's aerosol cans incorporate up to 50% recycled content, on a global scale. And we are committed to initiatives that increase the global supply of recycled aluminum.
INNOVATION AT SCALE
Through a holistic approach, Ball has achieved a globally scalable 50% reduction in carbon footprint compared to a standard aerosol can. And we are just getting started.