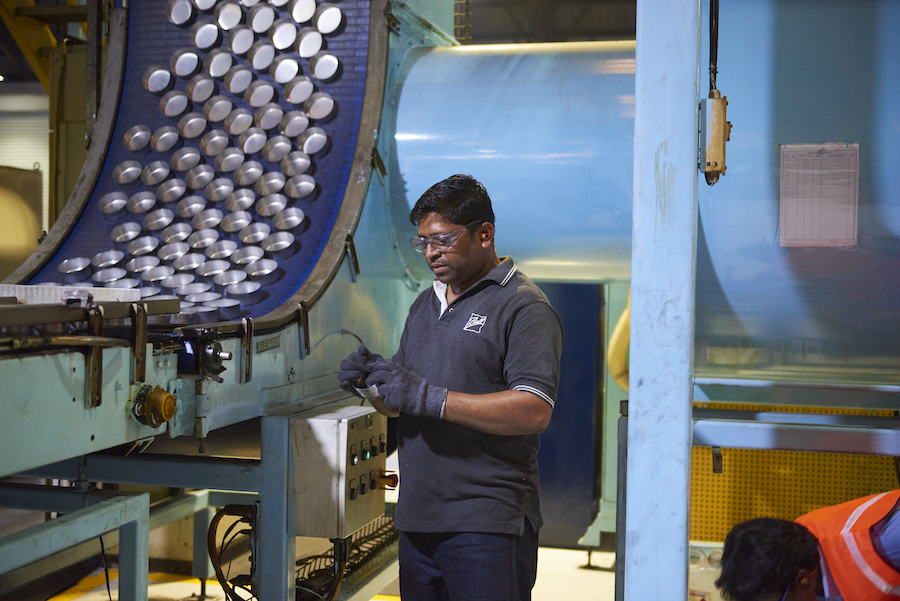 Diversity Program Overview for Ball Beverage Packaging and Aerosol Divisions
Ball recognizes that supplier diversity creates a competitive advantage for the company and has a positive impact in the communities where we operate. Ball is committed to providing qualified diverse suppliers equal access to business opportunities. It is the policy of Ball to intentionally identify, use, and promote diverse suppliers within its supply chain. The supplier diversity program does not have set-asides or quotas. Ball's supplier diversity initiatives attempt to open the competitive business playing field and encourage qualified diverse suppliers to effectively compete for and earn Ball's business.
For Ball purposes, a qualified diverse supplier is any supplier that is certified in one or more of the following categories:
Minority Owned
Woman Owned
Lesbian, Gay, Bisexual, Transgender Owned
Disability Owned
Veteran Owned
To be identified and promoted as part of Ball's Supplier Diversity Program, suppliers must be certified by a recognized third-party agency.
All of Ball's employees, particularly employees in Procurement and those involved in the sourcing and supplier selection process, are expected to explore opportunities to obtain goods and services from certified diverse suppliers that meet Ball's purchasing and contractual standards and can provide competitive quality and pricing. Ball is committed to identifying and including diverse suppliers in the procurement process and in sourcing events whenever possible, tracking and reporting on spend with diverse suppliers, and establishing goals for strengthening its Supplier Diversity Program.
If you are interested in doing business with Ball, please Introduce Your Company and indicate if you qualify as a diverse supplier. Please know that providing information about your company does not guarantee any future business with Ball. A representative from Ball will reach out if there is a potential match between Ball's business needs and your company's capabilities.
Registration Process
Qualified diverse suppliers with which Ball does business are required to provide evidence of certification by an approved third party on an ongoing basis. Suppliers must upload required documentation to their Ball Supplier Questionnaire within Coupa Supplier Portal (CSP), which includes proof of status from the certifying agency reflecting the type of certification, effective date, and expiration date.
Supplier Diversity Resources
Ball seeks to develop strategic relationships with diverse suppliers. These partnerships help Ball's diverse suppliers improve and grow their businesses while also allowing Ball to influence and improve its suppliers' product/service offerings and capabilities. This approach is mutually beneficial and helps certified diverse businesses scale, become more sustainable, and earn more opportunities to do more business with Ball.
Here are some nationally recognized agencies that help certify and/or support diverse businesses. There are many other local and national organizations that exist to support diverse suppliers. This is not an exhaustive list of agencies used by Ball.
Frequently Asked Questions
I want to become a diverse supplier to Ball. How do I get started?
What other action steps can I take to increase my chances of becoming a diverse supplier to Ball?
We encourage you to research Ball by visiting our website and learning about our products and service offerings. The more you know about our company, what we produce, and how we operate, the better you will be able to identify Ball's potential sourcing needs. This will allow you to understand how your specialties, core competencies, strengths, geographic locations and/or unique growth opportunities line up with Ball's business needs.
I am already certified by a state, do I need to get certified by other organizations?
Ball supports local, state and federal supplier diversity initiatives, certifications and classifications as well as, required licenses, where appropriate to the jurisdiction. Ball highly encourages and recognizes certification in the following organizations: NMSDC, WBENC, NVBDC, NGLCC and Disability:IN.
Does submitting the Introduce Your Company form guarantee that I will obtain contracts with Ball?
No. Survey responses will be reviewed for applicability and kept on file. Completing the survey does not obligate Ball or guarantee business. Ball will contact you if your company capabilities match our requirements.